Here at blue lobster, we strive to provide all ages the gift of fun, adventure and togetherness!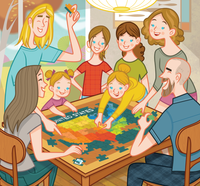 About Blue Lobster
Bryan Beach's playful, lively artwork evokes nostalgia for a simpler time and reminds us to have fun and keep life uncomplicated.
Relaxing alone at home or with family and friends, you'll relish the time you spend getting lost in a puzzle. 
We created Blue Lobster to share what we love with you. We hope our puzzles become a fun and refreshing part of your life. 
Customer Reviews
Fun puzzle

Fun and challenging for teenagers. They learned while playing. The pictures spurred several conversations about places in the world.

Mat
Amazing puzzle

Great details. Not too hard but not too easy either. Great puzzle for our family!

April
Love it!

It's our new favorite puzzle. It's nice to have one the whole family could do, even the 5 year-old could help!

Carrie
Our family LOVED our new puzzle

Ordering snafu was remedied lightening fast.... The quality and the colors and the design are all top notch.

Leslie N.
So much fun for our whole family!

We loved this puzzle so much we finished it within 24 hours. My three kids (11,8,6) were all involved and loved it.

Heather
Amazing quality, customer service

We were blown away by the quality! We love supporting small businesses and will be back again for sure!

Emily McD